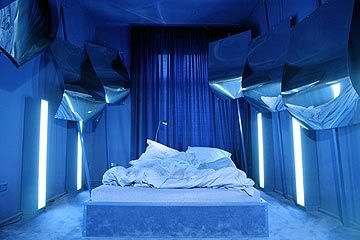 Features:
- Sails made of high-grade steel circumscribe the bed

Description:
In front of an exclusively blue background mirrored sails have been set up around the bed. This room was previously called Mirrors, it was and still remains one of the earliest City Lodge favourites.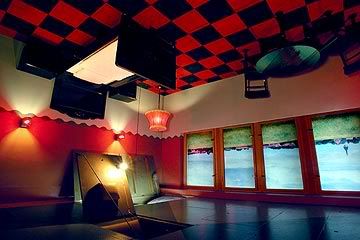 Features:
- The room is topsy-turvy
- Four beds and four seats are beneath
- No Smoking Room

Description:
The furnishings hang from the ceiling and you sleep and sit in comfortable boxes beneath the floorboards. Uncannily surreal! The only four-bed room. One of the most unique accomodations.


Features:
- sleep in coffins
- or in the labyrinth below

Description:
In both coffins you can even slumber beneath closed lids! Exclusively connoisseur room for all those "Nosferatus" who cannot wait for that which awaits us all. Whosoever has second thoughts can creep to the bedplace below, safe within the labyrinth. Not only a unique experience for Gothic die-hards...an exquisite location on top of that!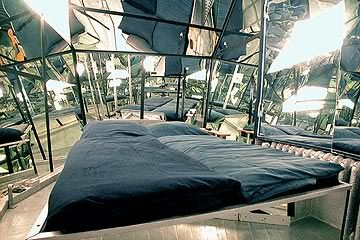 (hot!)

Features:
- Entirely decorated with mirrors
- Common bathroom
- No Smoking Room

Description:
Definitely one of City Lodge's highlights. The diamand-shaped room is completely(!) laid out with mirrors and gives you the impression of living in a kaleidoscope. Caution: Very sexy!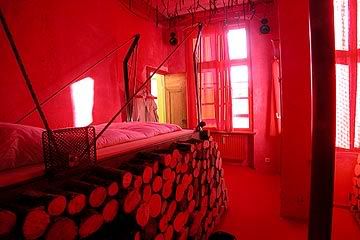 Features:
- sleep upon a wooden hill
- nice balcony with morning light

Description:
Dawn's early light smiles on glistening magenta and rewards you with an unbelievable chromatic experience at the break of day. 100 Nordic runes are suspended from a pink-toned celestial canopy and summon up the mood of a witches' or sorcerers' coven. All the same, the bathroom has been done in citrus yellow... A good place of rest for rangers, way up yonder on the woodpile! An earthly ladder takes you there...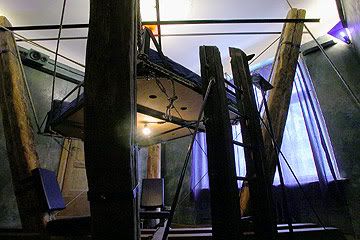 Features:
- The bed is suspended from ropes (1.6 metres high)

Description:
Your place of rest is literally knotted to four large ceiling rafters with thick shipping rope. The bed suspended one and a half metres from above can only be reached with a vertical ladder. Climb, climb! Unfortuntately, security regulations bar this room from being rented out to overweight guests!




Features:
- full of nude photos
- blue stone bath, open

Description:
The sandstone bathroom has been coloured with such a powerful blue and in such a wonderful fashion that it simply could not be hidden behind walls! Lilac-toned walls and velvet curtains capture your fancy well into the sweetness of slumber...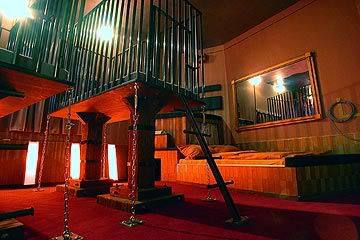 Features:
- sleep in a cage or double bed
- beautiful wooden bath with balcony
- biggest room, the 'suite' of the hotel

Description:
Dual cages, situated in the centre of this spacious menagerie, rest on stilts measuring 1.5 meters tall and await applause from the neighbouring guest(s). Your curtain presides over what your audience sees and what not! Each latticework can be a bedplace for one. Or there is room or two, vis-à-vis from the opulent and roomy bathroom. The toilet thrones atop a tower and permits voyeuristc peeks into the golden bathtub.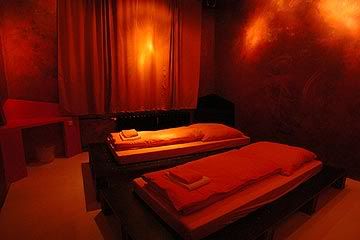 Features:
- Bronce and gold painted walls
- bath is giant plastic bag
- spy-mirror to the neighbor's room (!)

Description:
The wild brush strokes of abstractly painted murals surround and adorn the mirrored aperture to the goings-on next door - an opened curtain might just invite you to have a look! The bathroom is a gigantic plastic bag - a real sensation!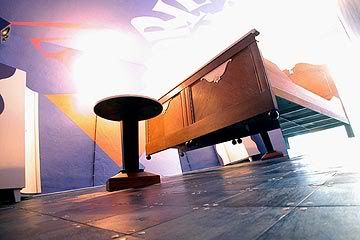 Features:
- A slanted floor

Description:
A room with a slanted floor which makes grandma's bed seem to fly. The wardrobe comes out of the wall, but the table has got to stay put! In the rustic bathroom of natural stone you will find eggplant-coloured slate.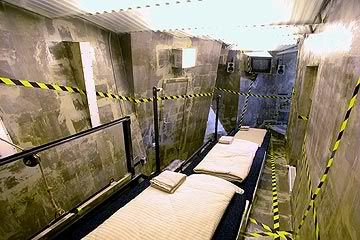 Features:
- Common bathroom

Description:
A tubular room with three consecutively ordered, terraced beds. The floor is hilly and even the wands are tilted! Like being in a mine - isn't that a lift there in the corner...?

There is so much more! Go here.

Originally seen on Silveraj's LJ and then linked to me by a few other people ;)